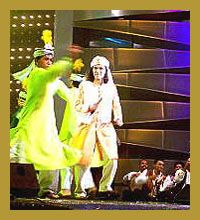 JAMAL ABDILLAH SHOULD WIN JUARA LAGU '99...
The annual music event, Juara Lagu '99, saw precise preparations were made by each of the contestants especially in the Irama Malaysia category. All four artists made elaborate preparations,backed by dancers, back-up singers and also traditional musicians to spice up their performance. The four contestants for the category are Kopratasa (Dondang Mustika), Siti Nurhaliza and Noraniza Idris (Hati Kama), JAMAL ABDILLAH (SAMRAH MENTARI) and Noraniza Idris (Dondang Dendang).
Graceful and colourful dance moves decorated the stage when all the four contestants in the Irama Malaysia category came up and performed their respective songs but CREDIT MUST BE GIVEN TO JAMAL ABDILLAH AS HE PUT UP AN OUTSTANDING PERFORMANCE AND THE CROWD GAVE A LOUD AND RESOUNDING APPLAUSE TO HIS PERFORMANCE. Many thought that JAMAL ABDILLAH had the upper hand but the final result by the judges proved otherwise as Siti Nurhaliza and Noraniza Idris (Hati Kama) came up tops as the winner for this category...(???)
Though there were disappoinments, many agreed that this year's Juara Lagu '99 went on quite smoothly and the results were not as controversial as previous years. Except for the case of JAMAL ABDILLAH's failure to even receive a complimentary award, such as the best performance award, which eventually went to Noraniza Idris for her song "Dondang Dendang", and Siti Nurhaliza's win with "Purnama Merindu" in the Pop Rock category, many thought it would go to Nora for her special effort, everything else just went on smoothly and it can be said that the Juara Lagu '99 was a success for all parties involved.
FROM : http://www.xsmusic.com/whatsup/linkto29.htm